Coffee roasting machine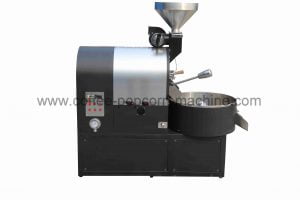 Introduction:
Our factory produce this model coffee roasting machine .They are made from the special imported steel that made by special technology.It was made for processing baking drum.It has the characteristics with high temperature heating to ensure that without leakage beans, BuKa beans, roasted evenly.At the same time Baking panel of this coffee roasting machine is equipped with high temperature glass window mirror, can observe the conditions of roasting. We set the take sample handle for this model coffee roasting machine so that in the baking operation, you can sampling observation at any time , further grasp the beans baking conditions within the warehouse.
Feature:
1.Abnormal flame out automatic cut off the gas and the warning sound to remind function.
The cooling system of the coffee roasting machine is unique design withrapid cooling.
3.Sampling handle, can be arbitrary sampling inspect the coffee beans baking degree and color change.
4.High temperature window lens can observe the coffee beans baking conditions.T5.Separation of baking and cooling, can continuous baking operation.
6.Roasting time is about 15-25 min/batch,heating mode of this coffee roasting machine is semi-hot air,semi-directly fire.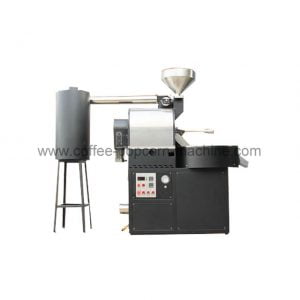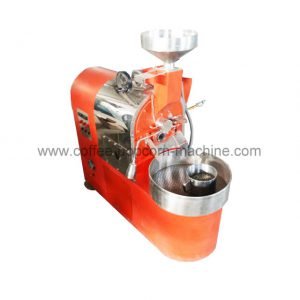 Specification:
Type
Model
Capacity

(kg/ batch)

Dimension(mm)
Gas consumption
Weight
Electric type
TZ-0.6
0.6
600*600*900
/
50KG
Electric or Gas
TZ-1
1
980*720*1080
0.3Kg/Hr
75KG
TZ-3
3
1200*750*1150
0.6Kg/Hr
100KG
Gas Type
TZ-6
6
1500*1050*1600
1.0Kg/Hr
160KG
TZ-10
10
1600*1200*1850
1.5Kg/Hr
220KG
TZ-20
20
1800*1450*2480
3Kg/Hr
360KG
TZ-30
30
2000*1600*2200
4.2Kg/Hr
520KG
TZ-50
50
2200*1800*2600
5.7Kg/Hr
650KG